Quick administrative thoughts
In my last week's portfolio update I promised to do a writeup on Millet Innovation, a French light orthopedic company, to get back on reading and writing routine after having complained about my big cash position and lack of new investment ideas for quite some time.
The public promise to come up with something in writing, good or bad, seems to be working as I have been consistent in throwing one or two hours of research every day during the work week. (It was lighter than usual work week though.)
To get some context on this weeks writeup which is about growth and not traditionally low P/E, I have been primed by value investing canon to not consider growth and tech investing as serious endeavour. How ever last week I read two important articles that seem to have expanded my thinking on the matter.
First, Wexboy came with a great piece on Google and second, Scott Hall wrote a post on his transition from traditional value investor to also include growth/tech investing in his repertoire.
Of course the same topics have been on the table recently as famously non-tech investor Warren Buffett surprised the investment world with his big position on Apple.
What the articles did was that I recognized an automatic shut down mechanisms of ideas in my head, which were based on arbitrary rules like "if it's tech or if the P/E is more than 10, forget it", creating a non-productive tunnel vision.
Now I recognize better that's a learned habit, form of laziness and sign of lack of imagination, for if you kill an idea automatically, you don't have to think about it (brain likes it easy).
Sure, the arbitrary rules can save your ass few times but when you kill every potential idea automatically you lose many opportunities and are actually not thinking about them seriously ever. And hard thinking by yourself is the most important thing to do to improve as an investor.
In the future I will try to stay more open for any idea and to not categorically kill them. With that self rant, here is my this week's promised writeup on Millet Innovation (and let it be my first attempt to expand my thinking to new areas).
Introduction
Millet Innovation is a French light orthopedic product company focused mainly on feet. They have full lineup of products under "Epitact" brand, which the company claims to be the leader in its niche in France and in other European countries.
Their main product is corrective and protective products relating to foot deformation called "Hallux Valgus" or "bunion". As non-medical expert's explanation, the deformation is about big toe's bone movement to point to "wrong" direction, causing pain.
Source: Akseli Gallen-Gallela "Akka ja Kissa" ("Old lady and a cat")
Millet Innovation's products try to prevent the movement of the bone, release pressure and protect the foot:
Source:  Millet Innovation
Products differ from competition by being "thermoformable" to users foot and by being light and comfortable material, so that they can be used in any situation anywhere with any shoe.
With quick inconclusive google analysis competitors' products seem to be heavier and more complex or seemingly uncomfortable to use.
Competing products: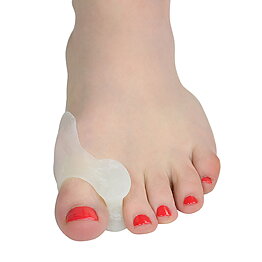 Source: https://www.tukisukat-shop.com/ (A Finnish feet care specialist webshop)
About third of people have some form of Hallux Valgus and it's correlated with age, unused muscles and too tight shoes and is more probable with women.
Given the prevalence of the deformation there seems to be big market potential but I don't at this point know what percentage needs medical treatment and what percentage of those can be addressed with Millet Innovation's products.
History
Before the corrective products, Millet was focused on protective and other foot products which brought the company up to 15 MEUR revenues in 2010.
The first corrective "Hallux Valgus" products were launched in 2012 and they have been the main growth driver up to 2015, when the revenues were about 22 MEUR. The company's communications imply that the current Hallux Valgus product range might have reached its maturity in the pharmacy channel.
There is how ever new night related Hallux Valgus product released recently, so the growth history seems to be far from over.
Furthermore in 2015 the company launched totally new sport related lineup (for knees, shins, ankles, Hallux Valgus, toes etc.) as a new leg of growth.
Source: Millet Innovation
Financials and growth
In my mind what makes Millet Innovation interesting is that essentially they take a piece of (in-house developed state of the art patented) fabric, puts it in to a package and slaps a brand on it, and then sells it with high profit margin for consumers (mainly through pharmacy channel).
For example the Hallux Valgus product pictured at start of this post retails for 20 euros in Millet Innovation's own webshop and the concern level gross profits after material costs are about 85%.
My understanding is that the Hallux Valgus and similar products last for few months in constant use so there is element of loyal customers and repeated business, making Millet Innovation interesting also as a stable consumer product company, not just as a growing product development company.
High profit margins continue to the bottom line. Operating margins have been 12-20% in 2010-2015 and ROE 20%+ at all times. Revenue growth has been 7% a year as new products has been constantly developed and launched.
Current situation
Millet Innovation is a growing small cap with both technological product development company and stable loyal consumer product company characteristics in it.
Market cap is 49 MEUR and earnings were 3,3 MEUR in 2015 and according to management's estimate will be "about"3 MEUR in 2016.
Thus, P/E is about 15-16 and excluding the 3 MEUR net cash ex. cash P/E about 14-15.
The valuation doesn't imply screaming bargain but given the decade long consistent profitable growth track record it doesn't seem like very expensive either.
In H1 revenue grew 8,8% and EBIT 5,6% but you might have noticed that the management's earnings estimate for the 2016 was actually lower than the actual earnings in 2015. The decreasing earnings forecast despite good first half could be taken as first signs of stalling growth and that the stock is too expensive.
There was however some seasonality in the H1 revenues as the channel happened to fill their inventories, which the company is apparently not expecting to continue in the second half.
And the profits are probably expected to be pressed down in 2016 because the company has decided to increase their marketing and sales spending, which should convert to revenue and profit growth later.
Personally I'm not too worried about the expected decrease in 2016 earnings because near term growth prospects looks still attractive:
1. New light orthopedic products
Millet Innovation has recently launched new "Hallux Valgus" product for night use and similar product for thumb.
Sales started in France and Italy in H1'2016 and the launch continues in other European countries in H2'2016 and onwards.
According to the management's verbal commentary, in France the new product launch was successful and they are expecting significant growth in the future.
One key element in the expected growth in France is that the new products were accepted to the social security fund's "refundable product list".
I don't know the details of the French social security system but my understanding is that  the customer gets some money back from the fund if he/she decides to buy products that are in the list.
The company says getting to the list is "turning point" for the  Epitact brand, suggesting that the effect to revenues and profits could be significant.
2. New Epitact Sport lineup
I earlier commented that the new sport product lineup could be Millet Innovation's next leg for growth.
It has been in the French market since H1'2015. In H1'2106 the company reported of new initiatives and investments to marketing and distribution channels, suggesting from reading between the lines that the launch has not been overnight success.
To me slow development doesn't actually sound like very surprising if they have tried to sell the sport products through pharmacies (as is my understanding) instead of where people usually by sport stuff.
How ever, the lineup was launched in other European countries in H1'2016 which according to management's verbal comments developed particularly well in Spain so there seems to be some variation how well the products are received in different countries and thus that the apparently slow start in France is not conclusive of the sport lineups overall potential.
Good news in the H1'2016 report was that the Epitact Sport brand/products was accepted as official partner with National Institute of Sports in France, which the company says helps build the brand.
In addition to marketing investment they have opened new distribution channel in sport stores, which for me seems to be right place for the products, so it seems that they really are trying to make the product work and that the they are adapting to the new situation and that the launch is moving forward.
3. New distribution agreement in Germany
The company signed a new distribution contract for two of its Hallux Valgus products with "major" pharmacy chain Germany in 2015 because the cooperation with the old distributor was not working.
There was no sales in 2015 in Germany which is probably the biggest potential market in the Europe, suggesting big growth opportunity in the future.
In H1'2016 the company verbally reported good progress with the new partner but mentioned that the "data doesn't make it possible to determine full potential of the contract".
The reports are in French and I understand very little French but my interpretation is that "full potential" could be very significant.
Just for context, if we take Millet Innovation's revenues in France as a guide, which is similar size market to Germany,  the revenue potential could be ~10 MEUR.
The 10 MEUR increase in revenues would be about 50% from the 20 MEUR group revenues in 2015, very significant potential increase.
(But note that the 10 MEUR revenue potential in Germany would require that the distribution agreement will be expanded to include all Millet Innovation's 50 or so products, which doesn't seem impossible if things go well with the current products.)
Conclusion
Millet Innovation is a growing product development company. They have their own R&D department which comes up with new materials, products and patents constantly. The historical growth indicates that the R&D is high quality and thus that it's reasonable to expect new products in the future also.
There are also some immediate catalyst that could drive the near term growth (the sport lineup, the new night Hallux Valgus products, the acceptance of some products to social security refund product list and the new distribution agreement in Germany).
More over, the products are high margin, branded, patented and differentiated consumer products that needs to be replaced with constant intervals, making the demand seem predictable and repeatable and thus potentially worth a premium multiple.
Given the historical consistent growth and the near term prospects the 14-16 PER doesn't seem like a bad deal.
Millet Innovation is a family company. About 70% of the shares are under Millet family's control and liquidity is thus very low, advantage for small investor like me. Salaries are reasonable (about 200 KEUR for the family member CEO) and the company pays dividend every year. Reports are surprisingly open extensive for French company.
For me Millet Innovation is very potential investment in the future because of the growth potential, branded consumer product characteristics and reasonable valuation. My french is so bad that I haven't yet fully understood the company's situation and products and would love some feedback from French colleagues if there is anyone familiar with the situation.
Given the language barriers I'm happy about this week's result of meeting my goal to do a writeup, good or bad, from random stock I stumbled on this week. I'm happy that it happened to be very interesting case and I'm happy that the publicly stated goal  kept me focused on one thing for the whole week.
With that, I will continue with the publicly stated goals and promise to come up with another writeup by next Sunday before midnight Finnish time. I will keep focusing on the Millet Innovation's growth prospects and try to get better grasp of what is happening in the company.
Happy hunting,
-Backoftheenvelope
20.3.2017 Edit: Few bigger writing errors corrected.